Species Infomation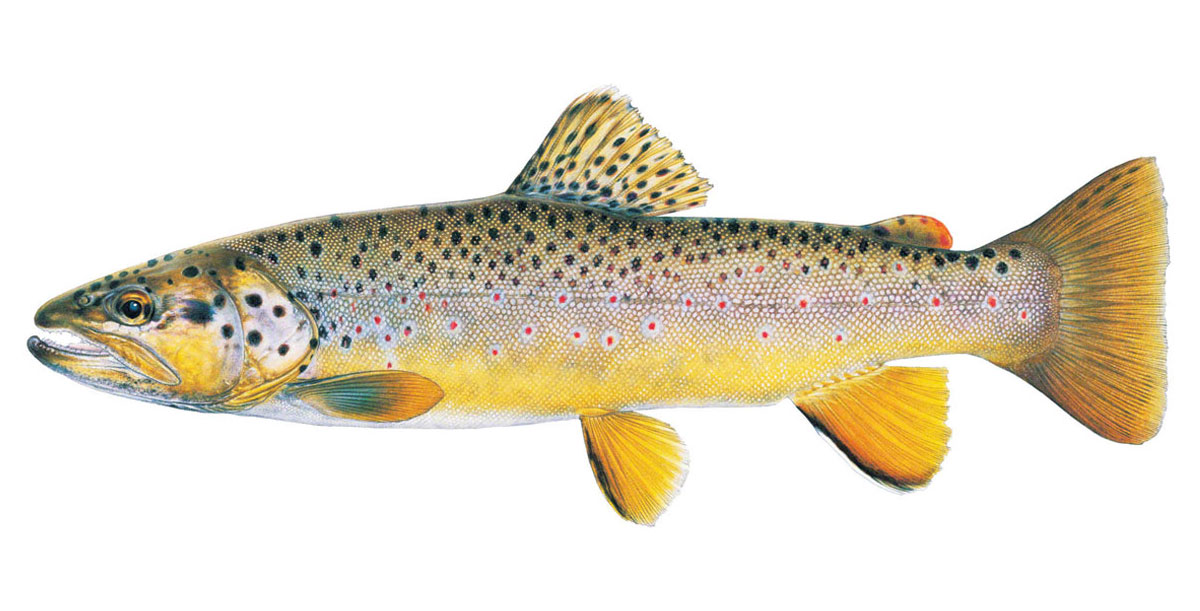 Salmo Trutta, Linnaeus, 1758
Anglers can find good numbers of Brown trout in Shenandoah National Park Lake which is just 75 miles away from Washington and can be reached within 3 hours. The park is surrounded by the scenic Blue Ridge mountains, forests full of wetlands and waterfalls which provide the waters of the lake.
Types of fish that can be found
The terrain facilitates shore fishing using rods and one can get other freshwater species like carps, largemouths, catfish, etc.
Type of fishing that can be done at the location
The favorite destination of trout anglers would be the Robbers cave state park which is a simple five-mile drive from Wilburton. Here shore, as well as boat fishing, can be done easily. The water body is situated below the Carlton dam in the Fourche Maline River from where the waters come from. The park is surrounded by hilly forests of the Sans Bois Mountains of Oklahoma. One can also catch Largemouth bass, spotted bass, catfish, and bluegills here.
SIZE:
It is a medium-sized fish and a matured fish can grow up to 100cm weighing around 20 Kg. It can live up to 20 years and the average length is around 40-80 cm. A young one fastly matures within 1-3 years. Those which grow in smaller streams tend to weigh as low as 1.0 kg. However the ones that grow in large freshwater lakes can grow up to an impressive weight of 40 pounds. Record weight of 41.45 pounds was reported from Manistee river in Michigan.
RANGE:
The range extends from Northern Norway and reaches the white sea tributaries in Russia. It is from the Arctic Ocean to the Atlas Mountains in Africa and up to Iceland in the North Atlantic. On the eastern side the range extends up to Aral sea tributaries in Pakistan and Afghanistan. In the US their range is confined to the upstream of Hughes river and a section of Conway river in Virginia. Besides a considerable population lives in North Fork Moorman's river.
HABITAT:
Brown trouts grow fast and healthy in freshwaters, cold and clear water rivers and streams which are well-oxygenated. These prefer upland waters in mountainous rivers and streams where the temperature tends to be cold. These hide in rocky bottoms, submerged rocks, overhanging vegetation, and sunken wooden debris. These are found in landlocked lakes as well as seas where the water remains cold.
DIET:
Brown trouts feed on a wide range of aquatic animals and invertebrates and the diet pattern changes during different phases of the life cycle. Brown trouts hunt for insects vigorously beneath the waters owing to their enormous appetite. They eat fishes, crustaceans, leeches, worms, minnows, underwater bugs, and flies. They are also lured by using Salmon eggs and rebel wee-crawfish. They also feed on Chironomid Larvae and baetid nymphs, mollusks, and salamanders. These are bottom feeders and eat during dusk or night and it is easy to catch them using lures during these timings. These have large mouths and feed on eggs of other aquatic species by digging the river bottoms.